Our Junior Golf Program is designed to introduce and promote the game of golf to Junior golfers of all abilities. Our goal is to provide a fun and enjoyable environment that will stimulate interest in the game. Juniors will learn the importance of rules and etiquette, as well as the basics of the golf swing and the game. All areas of the game are taught, including putting, chipping, irons and woods.
Due to Covid restrictions, the weekly Monday Clinic program in July and August will not be offered this season.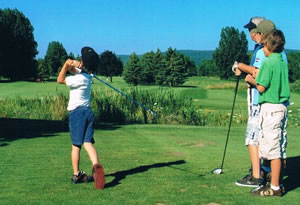 Membership Dues
Season passes offered for a limited time to those who participated in 2020 only.
Ages 14 to 18 years
Debenture Junior $310.00
Season Pass Junior $470.00
Ages 13 & Under
Debenture Junior $100
Season Pass Junior $340.00
HST, GAO and Section fees extra

Tee Time Policy
Junior members may reserve tee times 7 days in advance for play daily after 2:00pm except on Fridays and Holidays which is after 3:30pm.
Junior members may play daily at anytime if playing with an adult.